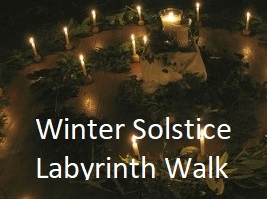 For a number of years we have offered a Winter Solstice Labyrinth Walk, a contemplative, meditative experience that enables us to support each others' gentle entrance into the darkest days of the year.
A spiral of evergreens is laid out. Each person takes a turn walking to the center, lighting a candle, and walking back out, placing the candle along the spiral to illuminate the path for others.  
 All ages may participate, but children must be accompanied by an adult.