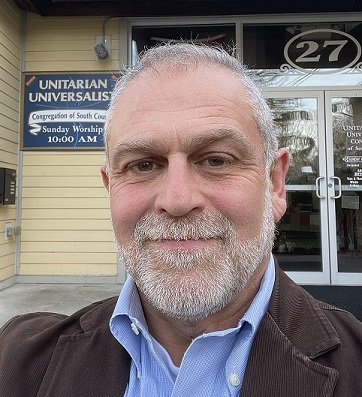 Rev. Denis Letourneau Paul lives in Easton, MA with his husband Rev. Joe
Cherry, who serves our sibling congregation in E. Falmouth on Cape Cod.
Their cute-but-grumpy Papillon dog named Toulouse is kind enough to
share his home with them.
Rev Denis grew up in Enfield, CT, a mill-town-turned-prison-town, where
his family was part of the largest Roman Catholic parish in the area. While
he never felt that church supported his theology or his wholeness as a
person, he was deeply affected and informed by his liberal congregation's
commitment to justice and equality.
Rev Denis received a Bachelor of Fine Arts from Rhode Island School of
Design, and worked through his 20's with his family as designer and project
manager in their residential construction company.
After moving to California and graduating from Starr King School for the
Ministry in Berkeley with a Master of Divinity, he joined the Faithful Fools, a
street ministry in San Francisco founded by a UU Minister and a Roman
Catholic Sister. It was an incredible opportunity to make peace with his
religious past, work with justice makers of all faiths, and most importantly
learn the skills of accompaniment and spiritual reflection. The job included
responsibilities as diverse as coordinating a program that taught modalities
for healing trauma; facilitating weekend retreats for UU Youth in the
region's Coming of Age Program; and teaching classes in the community
and at the UU Society of San Francisco. As an outreach minister for the
Fools, he had the privilege of working with congregations across California
— from Petaluma to Bakersfield, Los Gatos to Grass Valley — in a variety
of capacities, including regular preacher, contract minister, developmental
minister, religious education coordinator, and affiliated community minister.
Most recently he served for seven years as the developmental minister at
East Shore UU Church in Kirtland, Ohio. There, at the direction of the
board of trustees and the committee on ministry, he focused on strengthening
finances, building trust in and among the congregation, involving the
church in the neighboring community, and creating new and more inclusive
programming.
Here at UUCSC, Rev Denis is charged by the board to provide spiritual
leadership to develop and fulfill four primary goals:
1. Strengthen the systems that we deem most important to our mission and to
our smooth operation
2. Reinvigorate our community and heal form a difficult time period
3. Begin the process to prepare for calling a settled minister, including
identifying our weaknesses and developing a plan to improve
4. All conducted with an eye to simplifying and aligning our organizational
structure with the reality of our current resources and practices.
It's important to know that Rev Denis has been hired on a three-quarter
time basis, with a recurring work pattern of three weeks "on" full-time,
followed by one week "furlough." During furlough weeks, Rev Denis can
be reached in an emergency.