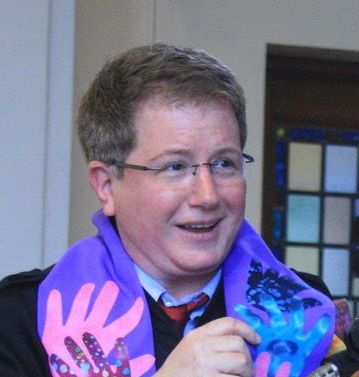 Reverend DL Helfer (pronouns: they/them) began their ministry at UUCSC in August of 2016. They are bi-coastal, having spent time in California, New York, and Washington before eventually moving to Rhode Island. After 20 years of progressively more responsible positions in environmental management, DL found that life was calling in a different direction.
In 2009, DL made the decision to answer the call to become a Unitarian Universalist minister. 
In 2016, DL entered into the UU ministerial search process, looking for a long-term congregation to minister to.  Fortunately, this was also when UUCSC was ready to seek our next settled minister, after the retirement of Rev. Kornitzer and several years with interim ministers.  Rev. DL visited with the UUCSC congregation in the spring of 2016, and soon thereafter Rev. DL was called to become our second-ever settled minister.  The phrase "match made in heaven" best expresses how UUCSC and Rev. DL came together.  We all feel fortunate to have found each other.
Rev. DL's gifts, talents, and connections with the UUCSC community are clearly evident on Sundays from the pulpit, as they lead our services and deliver thoughtful sermons that never fail to inspire our congregation.  DL's depth of knowledge, empathy, and caring shine brightly through each and every week.  Beyond Sundays, however, Rev. DL has quickly taken an active role in many social justice efforts across Rhode Island as well as nationally.  DL works closely with the Unitarian Universalist Association (UUA) and its human rights initiatives, sharing a special dedication in the support of immigrant rights.  Rev. DL leads by example to further social justice locally, state-wide, and beyond.
In June of 2020, at the UUA General Assembly national gathering in Providence, Rhode Island, Reverend DL Helfer received Final Fellowship as a Unitarian Universalist minister.   
Their professional credentials and background.
In June 2021 Rev. DL Helfer left their ministry at UUCSC to explore a different path.